Every time I visit a new country, I'm struck by how hard it is to know and understand a place unless you visit, walk, observe, listen and get to know the people and customs there. Travel opens your eyes to how small the world really is, how human beings in all parts of the globe seek kindness and connection, pleasure and beauty. In some places, its easier to find this than others, but its always there. We just returned from Japan, and I feel like we barely scratched the surface in our three weeks of travel. But the one thing we'll remember most is the kindness and generosity of the people we met there. Wherever my husband goes, he makes friends. It's one of the qualities I admire most in him. He's not afraid to introduce himself, ask questions, take risks. His unabashed curiosity and unselfconsciousness always opens doors and leads to adventures, even it's just learning someone's story. His ability to connect with others makes our travel experience so much richer.
When we started planning this trip, I didn't know what to expect. I'm embarrassed to say that I knew almost nothing of Japan's geography, and I had forgotten most of the history I learned in school, save Japan's role in World War II. Samurai and geisha, temples and shrines, shoguns and Zen monks--it was all a bit fuzzy. Not that I'm an expert now, but I have a much better understanding of the regions and cities of Japan, its history and cultural practices, its national treasures, and, of course, its food.
I debated how to structure this post, whether to break it into guides for the regions we visited, or to make it a general travel post. But in the end, it's about how to see Japan with a toddler, because that was our experience. I can't give detailed guides to the shrines and temples, museums and art galleries, because we did very little of that on this trip. But I can share how to get to know this beautiful country with a toddler in tow. So, here goes.
Travel Planning
I probably spent 80+ hours researching this trip and planning the details, including which regions to visit, where to stay, where to eat and what to do. So, if you're planning a trip to Japan with your family, I hope this helps shorten that time for you. At first, I really wanted to travel the whole length of the country, from the mountains of Hokkaido in the north to the beaches of Okinawa. But, even with high speed Shinkansen trains, we would have had to move every few days, and I knew that would be tough on Theo. In the end, we decided on the following itenerary:
Tokyo (5 nights)
Kyoto (7 nights)
Takayama and stay in a ryokan (2 nights)
Kanazawa (4 nights)
and one more night in Tokyo before flying home
If I had the trip to plan over again, I think we would have stayed in Tokyo a couple of more nights and shortened our stay in Kyoto. We might have also spent one more night in Takayama and one less night in Kanazawa. But that's mostly because we decided not to do the side trips that we had planned, because of weather in some cases and because of laziness in others. But overall, the amount of moving around and time to explore seemed pretty perfect.
Things to Know Before You Go
Any time you visit a foreign country, things will be different. And that's a good thing! You don't want to travel all the way to Japan and have it feel like you never left home. But different can sometimes be challenging if you're not prepared. So here's a little primer to help ease the culture shock.
Pick up the book, Rice Noodle Fish, to learn about Japan's regional cuisine and also read some of the complementary articles on Roads & Kingdoms, including this one on things to know before you go, which will give you different information than I'm sharing here. Also, this brief article gives you a summary of the different types of restaurants you will find in Japan. It's helpful. You'll also want to know the proper way to eat sushi, ramen, soba and udon and how to drink sake. Just Google it. The Japanese are keen on etiquette and tradition, especially when it comes to food. You'll want to be prepared.
Japanese women dress very conservatively, so pack accordingly. In general, men and women alike all look very polished and put-together. Fort he most part, it's really not a jeans and t-shirt kind of country, especially for women, although you could certainly get away with that look as a tourist. But, Japanese women dress very modestly, in a feminine style. Think ruffled blouses, full skirts and wide-leg belted pants and stylish flats. They almost always wear long-sleeves and have conservative necklines. There is no skin showing, unless maybe they are wearing a knee-length skirt. I say this, because I brought some sleeveless tops to wear with shorts on hot days, and I felt exposed and a little out-of-place. If I had to pack again, I would pack differently, leaving my jeans at home and bringing more trousers, skirts and dresses.
Restaurants don't do take-out. Since we started traveling with Theo, we've gotten used to eating out for breakfast or lunch and getting take-out or cooking in for dinner. I was completely expecting to eat take-out sushi or ramen or soba or udon every night of the trip, but Japanese restaurants won't do take-out. They don't have take-out containers and you won't be able to take home any leftovers from your meal, either. You can get prepared foods at the local supermarkets, and every department store has a food floor with prepared foods that you can take with you. But there's no ramen to-go, which severely limited my ramen intake for the trip, since we couldn't always take the time to sit in a restaurant with Theo.
If you are vegan, vegetarian or gluten-free, do your research. I've always though of Japanese cuisine as being vegetarian-friendly, and some of it is. Their tofu is amazing. But, if you don't eat fish, you'll have a hard time, because almost all of the broths and dipping sauces for ramen, soba and udon are make with dashi from bonito (dried fish flakes) or dried shrimp. And many of the broths also contain chicken stock, or most often, pork broth. I was surprised at the amount of pork in the Japanese diet. Similarly, if you are gluten-free, there is a liberal use of soy sauce in most broths and sauces (soy sauce contains gluten) and most of the noodles are wheat-based. Ramen and udon noodles are made from wheat, and even the soba noodles may contain wheat unless the restaurant specifies 100% buckwheat noodles, sometimes referred to as Juwari soba. If you are vegetarian or gluten-free, be sure to translate a few key phrases in Japanese to make your needs clear.
The Japanese do not eat (or drink) on-the-go. It might seem a little restrictive and sometimes annoying when you want to take your ice cream cone and walk around, but the Japanese always sit to eat or drink (which is probably why there is no take-out). Even at Starbucks, they offer coffee in mugs, and most often people sit down, alone or with each other, to drink their coffee. Even if you get a sample from a food vendor, you will be expected to sit or stand and eat in the establishment. If you try to leave, you'll be chastised. Once you accept it, it's actually a wonderful practice and one of our take-aways from our trip is to take our time to sit and enjoy a meal or snack at rest.
There are no trash cans in public spaces. I had read this before I went, and I thought writers were probably exaggerating the lack of trash cans, but it's true. There are no trash cans in public spaces. If you generate trash (which you won't generate a lot, because you're not eating or drinking on-the-go), then you carry it with you until you get home. No one litters. The problem is, if you are the parent of a toddler who is not potty trained, then you are going to end up with dirty diapers. Remember to always, always carry small trash bags in your purse for those wet or dirty diapers, because you won't even find trash cans in public restrooms or parks. Enough said.
Speaking of restrooms, public restrooms often don't have soap or paper towels. The lack of paper towels is obvious, because they don't have trashcans, but often there is not an air drier either. I found many public restrooms also didn't have soap, which is especially gross if you've just changed a dirty diaper. I kept antiseptic wipes and and hand sanitizer in my backpack for when I needed them. But you will find public restrooms to be immaculate, and almost all will have nice-sized changing tables for diaper changes, private rooms for nursing and pumping and even little seats in the stalls to set your child while you're going to the bathroom. Traveling in Japan is very baby-friendly.
Don't expect people to speak English, but you can expect that they will do their very best to communicate and help you. We found the Japanese people to be incredibly kind and would go out of their way to be helpful and accommodating.
A word about trains. Most guides and blogs will tell visitors to get a Japan Rail Pass when they visit Japan, and if you are traveling to lots of different places within Japan, it might be worth it. But, be sure to do the analysis. When we aded up the cost of tickets to the places we were traveling, it was less to just buy the individual tickets than to buy a pass. It's easy to buy trains tickets at the stations. We bypassed the electronic ticket vendors and went to the ticket office to get help from a real person. It always paid off. If you're traveling as a family, I think it's worth it to pay a little extra to secure seats together on the train, instead of purchasing open seating. Also, if it's a long ride and you may want to sleep, consider purchasing a ticket on a Green car, which have larger, more comfortable seats. Lastly, many of the train stations are huge with multiple train lines and many different platforms. Be sure you give yourself plenty of time to find your platform and make sure you get on the right train headed in the right direction. Trains are prompt in Japan, leaving right on time, so you want to be ready to get on the (right) train. And the same with getting off. Listen for your stop and then get your bags ready (especially if you have children) or you will be frantically scrambling to get out the door before the train leaves the station.
A Guide to Tokyo
We came to Japan primarily to tour the country with Elie's cousin, Daniel, and his girlfriend, Annisa, who had been living there for the past year. Annisa became Daniel's bride on our first full day in Tokyo, and much of the first few days were filled with joyfully celebrating their marriage with about 40 of their closest friends. We squeezed as much tourist activities as we could between jet lag and celebrations, so I use the term 'guide' very loosely here, because this is in no way a complete or even partial guide to Tokyo, which is a huge (obviously) and diverse city. But, here's where we stayed, what we did and where we ate.
Where to Stay
When you think of Tokyo, you probably think of skyscrapers and bright lights and masses of people, and much of the city is certainly like that. But parts of the city are filled with quiet tree-lined streets dotted with interesting boutiques and great coffee shops and noodle bars. We stayed in this Airbnb, spacious by Tokyo standards, in the quaint area bordering Nakameguro and Daikanyama. I would definitely stay there again, and we loved the pretty neighborhood. It was an easy walk to the train station, so we could get anywhere else in the city easily.
Where to Eat
It's almost impossible to do a food guide for Tokyo, because there are about 160,000 restaurants and so many of them are incredibly good. Just walk in to any small restaurant or noddle bar, especially a crowded one, and try it. You'll probably like it. That being said, Afuri, which specializes in yuzu ramen, was by far my favorite ramen of the trip. Get the spicy version. And if you're lucky enough to be in Portland, they opened a branch there.
We had homemade udon with perfectly fried tempura and great sake at Kamachiku.
Every department store in Japan has a depachika, a floor devoted to prepared foods, which people refer to as a 'food court,' but that doesn't really do it justice, because it's beautifully curated and organized. If you've been to Paris, it reminds me of the Le Bon Marché, but all prepared foods. You can see takoyaki (fried octopus balls) being made or purchase karaage (Japanese fried chicken, which is so good). Some stores have sushi or bento boxes or prepared salads. And all of them will have lots of sweets including French pastries or artisan chocolates. This article from Eater gives you a good primer on depachika.
We had a lovely farm-to-table breakfast at Locale. And if you're craving a great loaf of bread or pastry to start your morning, you'll find them at City Bakery.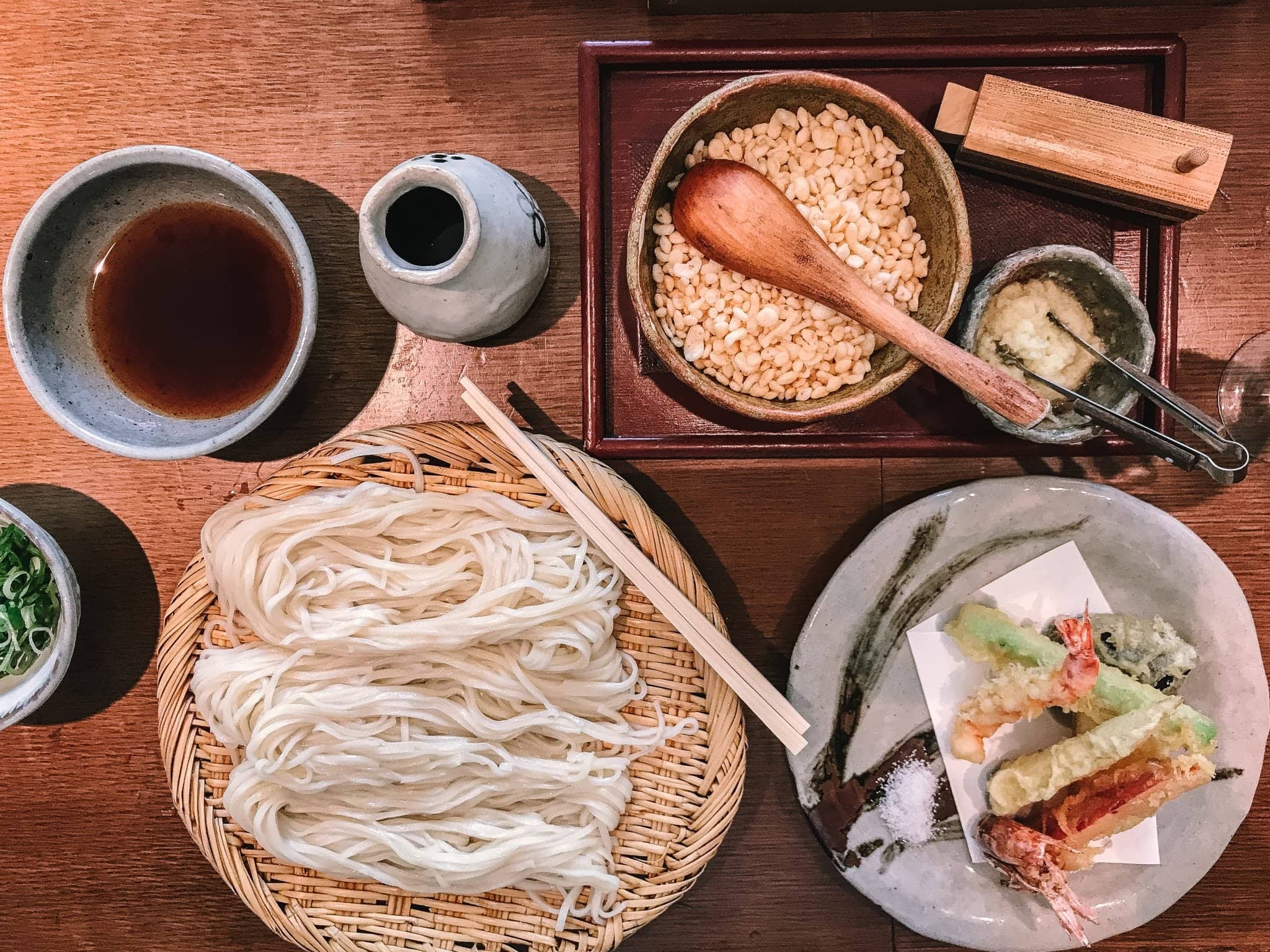 Where to Get Coffee
For coffee, we went to Onibus every morning, which was close to us. Their Nakameguro location is in a park, which is a perfect way for everyone to start their day if you're traveling with your toddler. If you're not staying near Nakameguro, check this article for great coffee near you.
What to Do
Again, we only scratched the surface of what to do in Tokyo. If you're planning a trip to Japan, contact our friend Elizabeth with Be Here Asia, and she will help you create the perfect experience.
Don't miss the Tsukiji Fish Market, which is way more than just a wholesale fish market. Eat sushi or oysters, try fish cakes or sea urchin, or Theo's favorite, tamago (a slightly sweet egg omelet). One of the best souvenirs to bring home from Japan is a knife, and some of the best are made by Masamoto Tsukiji. Elie may or may not have come home with a half-dozen knives.
I took a ramen cooking class through Tokyo Cook, which I loved. Whether you take this class or another one, taking a cooking class is a great way to get to know the cuisine and the culture. I learned all about the different types of ramen and the ingredients used in making them, and I also got a little primer on sake. I actually took the ramen class before I went to Tsukiji, so I knew just what to buy from the market to make dashi back home.
Of course, you have to go to Shibuya to see the famous pedestrian crossing, where hundreds of people cross the street in all directions at the same time. Despite the congestion, it feels very orderly and controlled. It's probably best seen at night, when all the lights of Shibuya are in full-blaze, like Times Square, but continuing on for blocks and blocks. It was not my favorite part of Tokyo, but worth seeing.
Each day, we try to balance exploration and sightseeing with spending time in parks or doing something fun for Theo. On the day before we left for the airport, we ended up staying one night at a hotel near Ueno Station and we went to the Ueno Zoo, where we got to see Pandas. Theo loved it.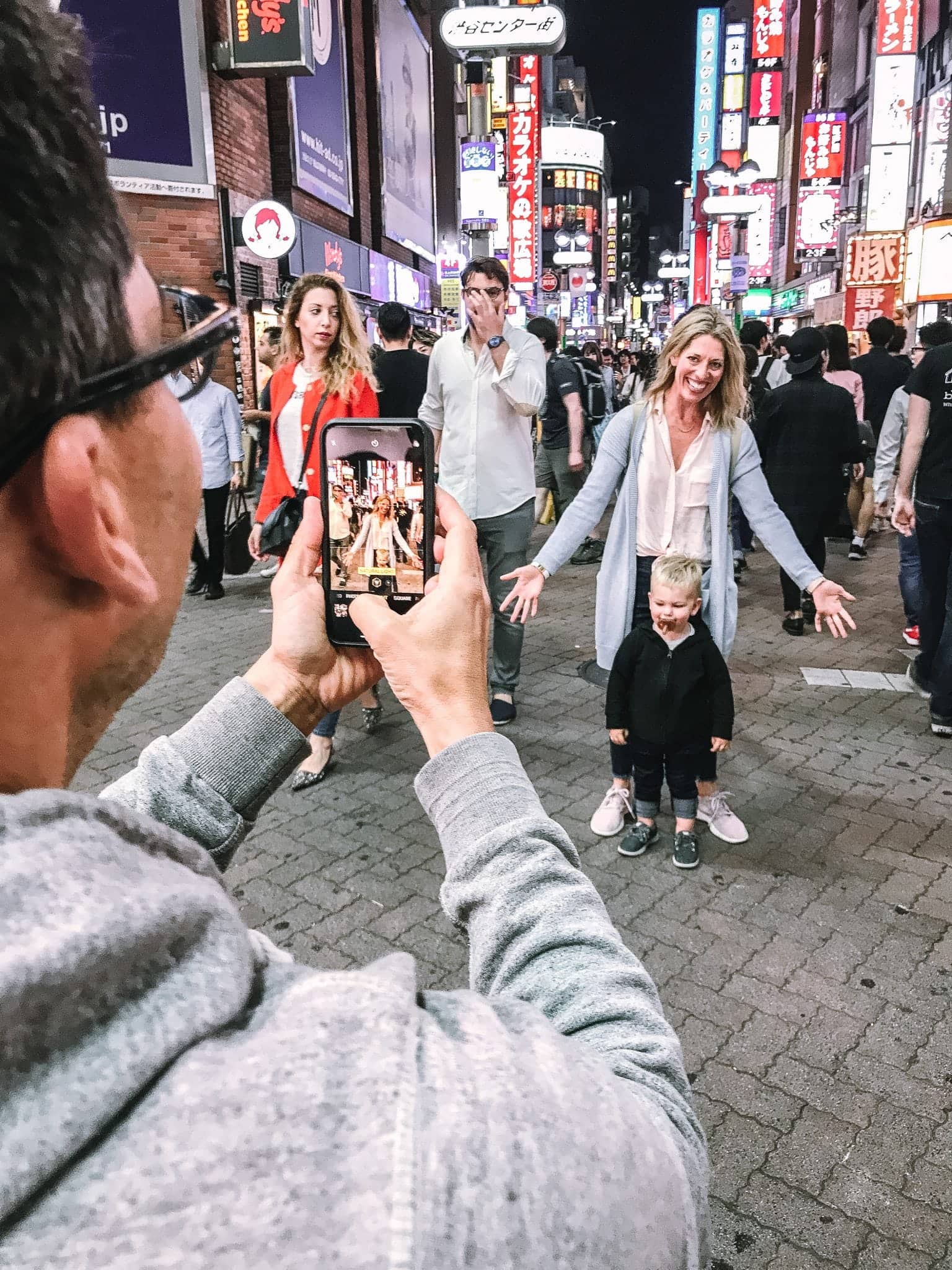 A Guide to Kyoto
I think most travelers would say that no trip to Japan is complete without a visit to Kyoto, which is considered the historical and cultural heart of Japan. Although it's still a large city of 1.5 million people, it feels small and very manageable. We laughed that Daniel and Annisa spent their honeymoon with us in Kyoto, before moving on to Indonesia for more wedding celebrations. We loved having their insight and perspective on art and culture and food, which made our experience so much richer.
Where to Stay
We stayed in the heart of the historic center in Gion, in this machiya, or traditional Kyoto townhouse. You could spend days just wandering around Gion, the famous geisha district, getting lost in its picturesque alleys and narrow cobblestone streets leading to hidden shrines and lush parks. I think Gion is a wonderful place to base your stay in Kyoto, as it's within walking distance of many restaurants and attractions and is close to a train stop.
Where to Eat
I wouldn't say this in most places I visit, but I don't think you can go wrong with just wandering in Kyoto and picking a restaurant at random. We did this several times, with great success, including a kaiseki restaurant we wandered into that I forgot to note the name of (but where we had a delicious meal) and Gion Karoku, a yakiniku restaurant, which is a Japanese version of Korean barbecue. A yakiniku restaurant is a fun experience for little ones, because you grill very thin slices of wagyu beef on a grill inset into your dining table. And don't miss the bibimbap, which was an incredibly delicious version that I need to figure out how to recreate at home.
We only made one dinner reservation for our time in Japan, and that was at Tempura Matsu, which you can read a thoughtful essay about in Rice, Noodle, Fish. The restaurant is actually in the chef's family home, and the first floor bar is rustic, but welcoming. But for the first part of our meal, we were seated upstairs in a small (and a little shabby) poorly-lit private room. It was quite bizarre. We enjoyed the experience a lot more once we were seated at the downstairs bar and could watch the chefs work and feel a part of the vibrance of the restaurant. Overall, I think the experience was a little wasted on us, because the menu was entirely seafood with predominantly raw and sashimi components, which we love in small amounts but is just not to our taste in such quantity. However, there was incredible artistry and creativity involved in the meal, and the toro draped over beautifully aromatic rice with sesame miso sauce was one of the best dishes I've ever tasted.
I do think it's worth going to the Kyoto Station to the row of ramen restaurants on the 10th floor to sample ramen from different regions of Japan. Share a bowl of ramen at a couple of different restaurants and start to learn the regional ramen specialties. Also, don't be put off by the smell coming from some of the restaurants. For some reason, the aroma of pork broth cooking is incredibly offensive, but it tastes really good (although it is quiet rich). I did notice that a few of the restaurants offered vegetarian versions, but not many. It's a fun experience, and really family-friendly. Ramen is quick, so it's good for toddler attention spans. And Theo always loved the broth, noddles and pork, so it was a good meal for him, too.
While wandering through Gion one morning, we stumbled upon this little cafe, and we went back twice for breakfast. They make really good muffins in interesting flavors, and I loved the Japanese breakfast.
If you want take-out or groceries, almost any corner grocery store, including 7-Eleven, will carry basic staples. But, if you want a bigger selection or better quality items head to Dean and Deluca or Yaoishi, which also has a large prepared foods section (including sushi) and a nice selection of natural wines and good sake. Also, almost all of the train stations will have a place to buy bento boxes, and many of the larger stations actually have full-size grocery stores. It's easy to stock up on groceries right off the train before heading to your apartment.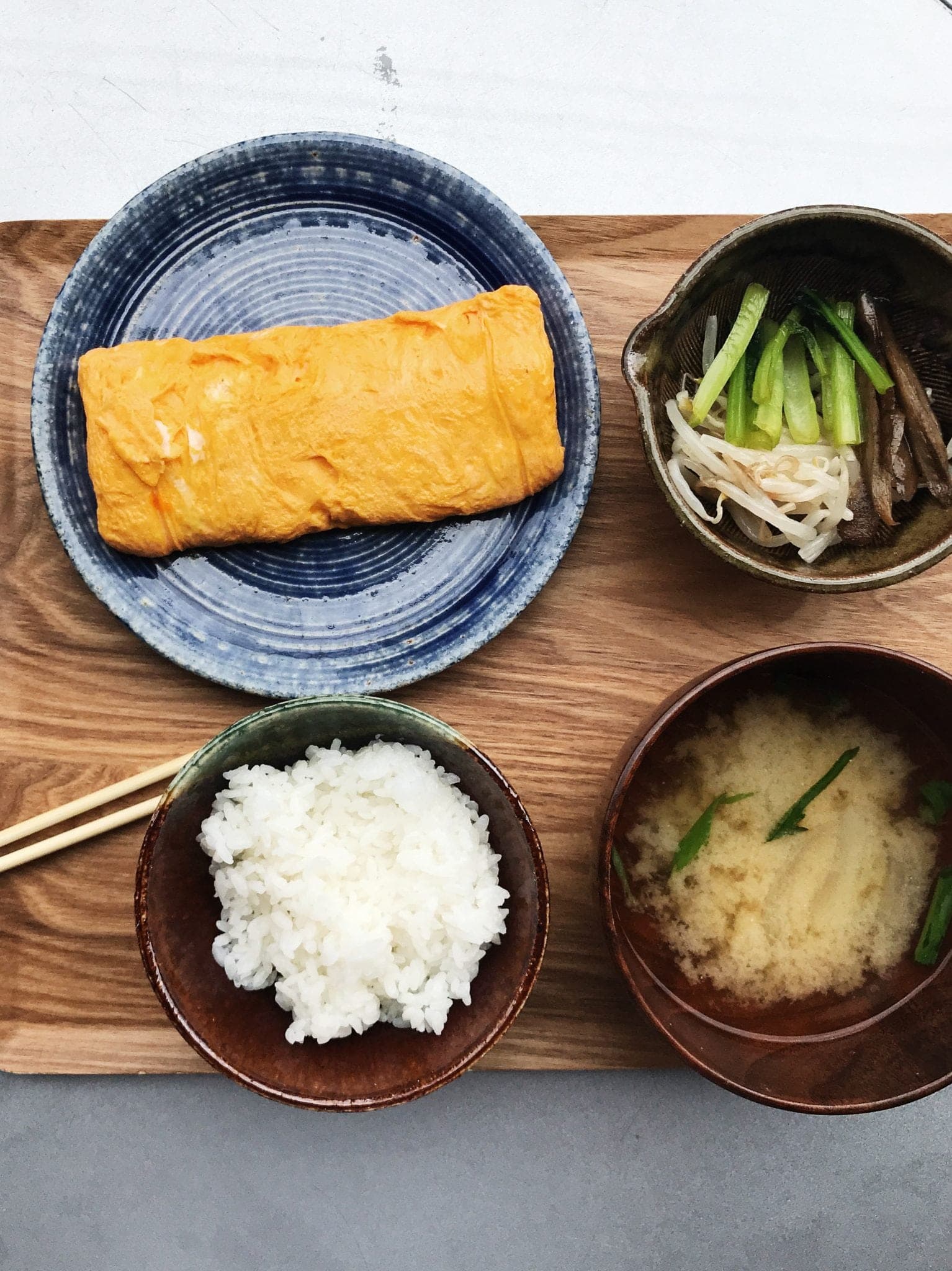 Where to Get Coffee
When you stay a full week in a city, you start to feel like a local. Inevitably, we start to develop favorites, and we begin to know the people we see each day. It's a wonderful part of travel. Every morning, as soon as the clock approached eight, we would put Theo in the stroller and wander through Gion to % Arabica, where we enjoyed some of our favorite coffee anywhere, as in anywhere in the world. Not only was the coffee consistently excellent, but the baristas friendly, helpful and knowledgeable. Elie became best friends with them, of course. If I haven't mentioned it, Elie has become a coffee aficionado, and he's always doing research for potential coffee businesses. If you're hungry, you can also pick up a very good baguette sandwich with brie and prosciutto.
Weekenders Coffee is another great option, although it's a little hard to find. Google maps only gets you so far with addresses in Japan. We often would find ourselves wandering in circles before we figured out we had to go to the second (or third or tenth) floor of a building or walk through a parking lot or alley. To find Weekenders, look for the parking lot close to the blue dot and walk to the back left corner.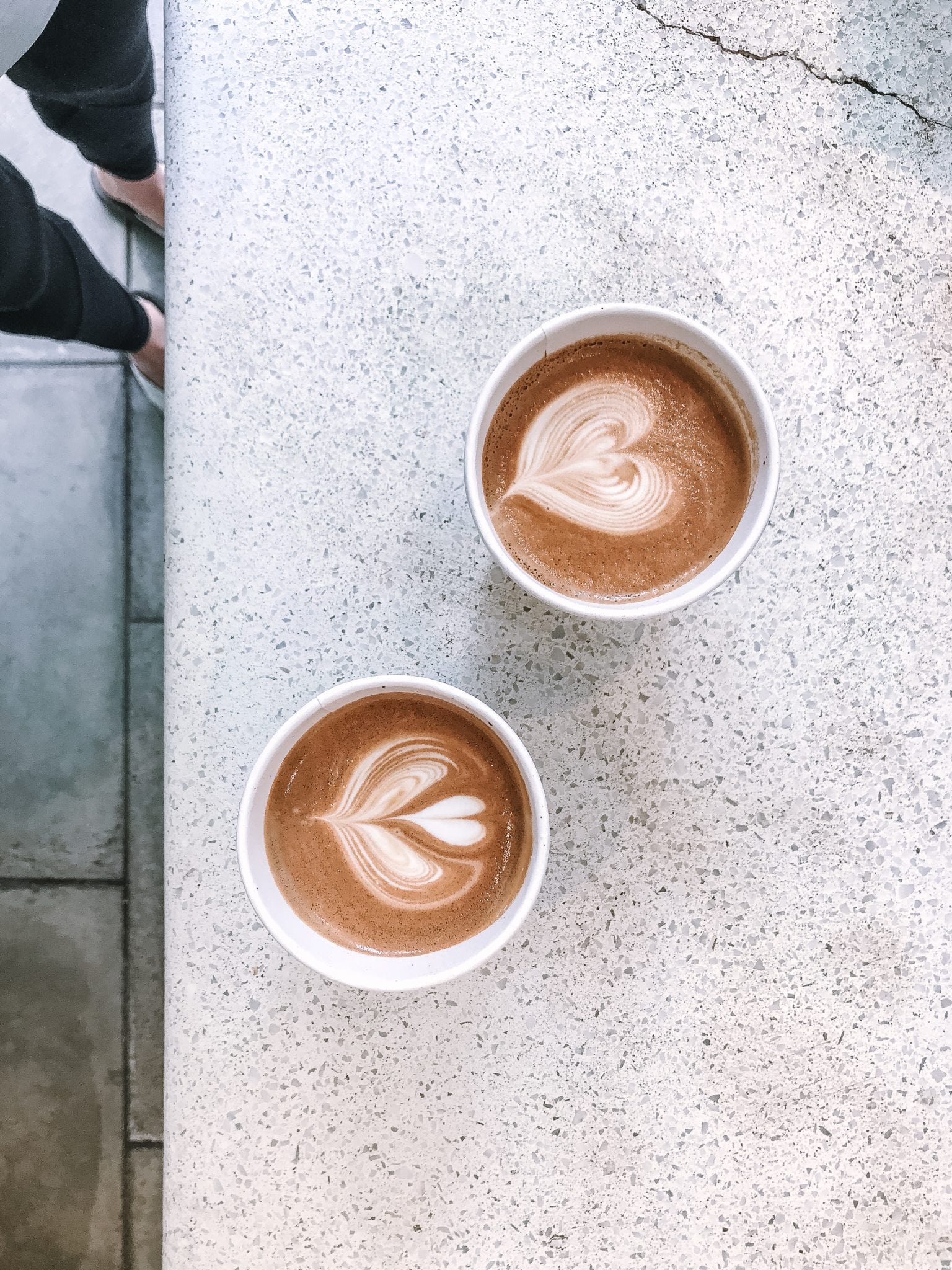 What to Do
Everyone always asks us what we do when we travel, and often, the answer is 'we just walk and eat.' While we will sometimes pop into a museum or art gallery, we're more interested in just being. We like to visit boutiques and talk to the shopkeepers, strike up conversations in coffee shops, visit local food markets and gather ingredients for a impromptu picnic or just sit at a cafe and watch the world go by. Luckily, this is the way Elie and I both like to travel. Marry someone who likes to travel the same way you do, and you'll never have an argument.
Not surprisingly, Nishiki Market was the first place we headed after arriving in Kyoto. The marketplace is bustling with traditional foods, from tofu to bonito and sake to soy sauce. You can try black sesame ice cream (delicious) or a pickled octopus on a stick (not to my taste). Try skewers of fried fish cakes or any one of the numerous variety of pickles. It's overwhelming in the best possible way, with so many exotic flavors and smells and tastes. I loved it.
If you're visiting Kyoto, I'm quite sure you already have a list of the temples and shrines you plan to tour. The one to do with a toddler is Fushimi Inari Taisha. I'm sure you've seen photos of the corridor of orange-red torii gates snaking up the mountain. This shrine is located in a beautiful wooded area, so there are plenty of sticks and stones to occupy a little one as you explore the lower part of the shrine. Next time I'm there, I will arrive at dawn (you're probably going to be awake anyway, thanks to jet lag or your toddler) to avoid the crowds and make the two hour meditative trek to the top.
Wander through the beautiful Maruyama Park in Gion, which is near many other temples and shrines. Take turns playing in the park with your little one while your partner explores, and then switch. It makes everyone happy.
Japan is famous for its safe and timely high speed train system, so logically, Kyoto boasts an amazing railway museum. We had one cool and rainy afternoon in Kyoto, and so we spent it in the museum, and we had to peel Theo away at closing time. It has has many interactive exhibits with bells and whistles and buttons perfect for two-year-olds, and there is a large children's play area with toy trains and other activities. It was one of Theo's favorite parts of the trip.
If you have enough time in Kyoto, take a side trip to Nara Park to feed the deer. It's a fun activity for the little ones, and the town of Nara has great little shops and restaurants. We had one of our favorite meals of the trip here, at the tiny restaurant Terakawa. With only four tables, it's a one-man show. The chef greets you, serves the sake, takes your order and then retreats to the kitchen to prepare and then serve each delicious dish. It was a memorable meal.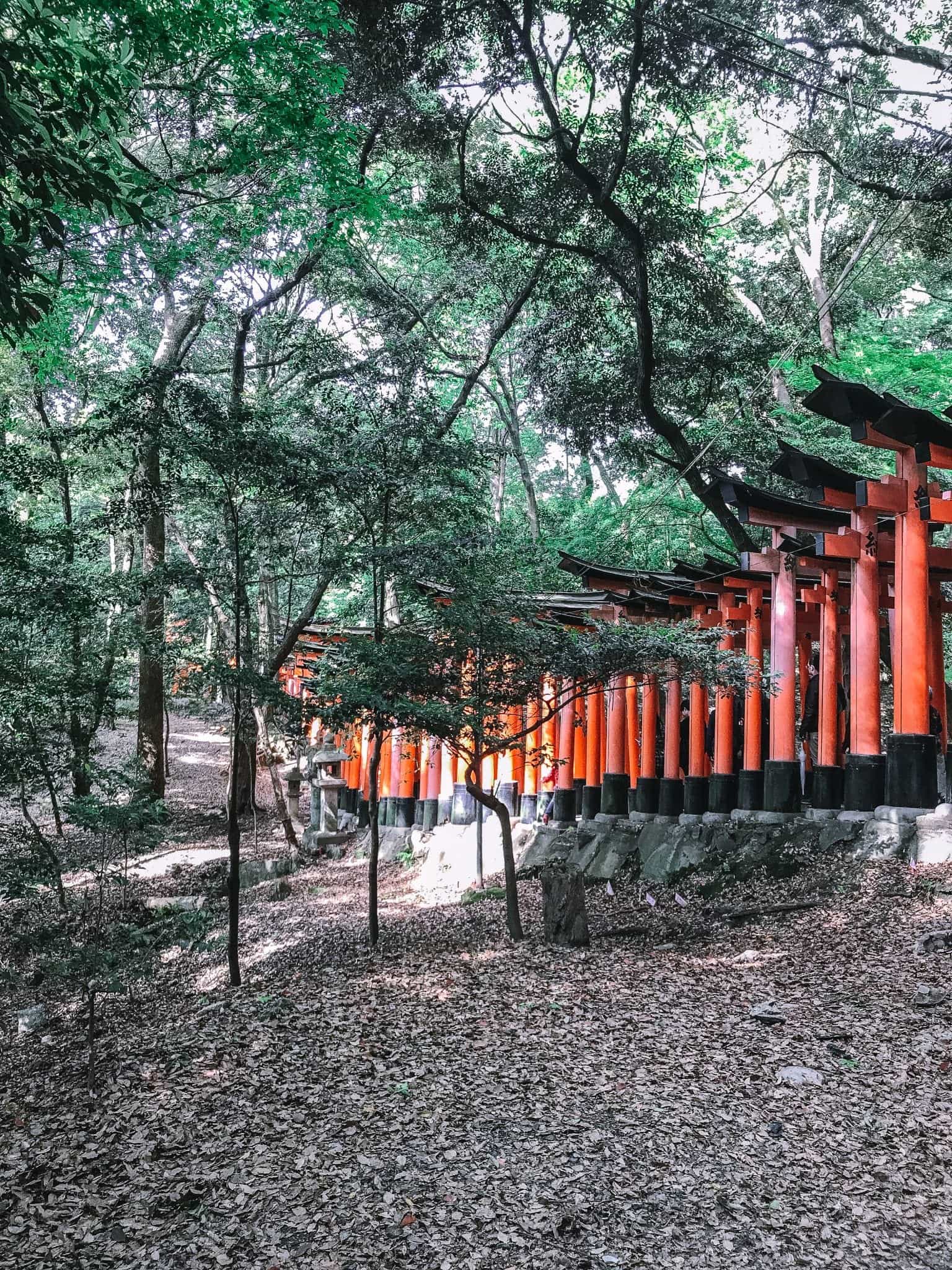 Staying in a Ryokan
At the top of my wish list for our visit to Japan: staying in a ryokan, a traditional Japanese-style inn which feels sort of like visiting a boutique destination spa in the United States. Staying in a ryokan is not like staying in a hotel. When you arrive, you will leave your shoes at the entrance and wear provided slippers for the rest of your stay (our ryokan provided boots to wear outside), and you will trade your clothes for a traditional yukata. You don't have to ask me twice to stay in my robe for two days.
Ryokans do not have Western-style beds. Instead, you sleep on futons laid on a tatami mat floor. It doesn't sound comfortable, but it is, and I really like a soft bed. The futons are soft and made up with layers of luxurious sheets and down bedding. It's like sleeping in a cloud. All ryokan have an onsen, or a natural hot springs bath for use by all guests. (There are right and wrong ways to bathe in an onsen, so here is a primer for visiting.) But the best reason to stay in a ryokan is for the food. Ryokans specialize in local, seasonal ingredients and traditional Japanese breakfasts and kaiseki dinners, exquisitely-presented multi-course dinners following a specific sequence of dishes. It is a special experience, and was one of the highlights of our trip.
I must have looked at 100 different ryokans before finally choosing Wanosato, located outside of Hida-Takayama in the area known as the Japanese Alps. The train ride from Kyoto to Takayama was breathtaking, racing through wisteria-covered green hills, over rushing rivers and past waterfalls. It is a picturesque setting for the small town of Takayama, where you can stock up on local food specialties like freshly-toasted rice cakes, preserved Hida beef and soba noodles. I brought them all home.
About a 20-minute drive from Takayama, the 160-year old Wanosato minka (the main house) is nestled on the river bank amongst a thick forest of trees with snaking dirt paths leading to the water. As you enter, it feels like you're stepping back in time, and certainly you do enter another era. A heavy iron kettle hangs above a fire pit in the center of a room with a dirt floor criss-crossed with raised paths for walking and sitting on pillows by the fire. Unconsciously, you exhale. This is a place to just be.
The staff of Wanosato are welcoming and gracious and they made us feel completely at ease with our two-year old traveling companion. After a welcome drink of green tea and a snack, they showed us to our room, a spacious rustic suite with an entrance area, a dining room, a bedroom and sitting room and a spacious bathroom with a wooden soaking tub, all with stunning views of the river.
We immediately went out to explore, and Theo loved playing on the banks of the river, throwing rocks and sticks and watching them be carried away by the water. It was a great place for a little one. We went back to the main house and warmed up in the onsen. Since we were the only guest there at the time, I took Theo into the bath with me, while Elie went to other bath (all onsen have male and female baths, since you bathe nude). Theo was in heaven, and he did a great job of just relaxing and looking out the window instead of playing or splashing. It's so serene, it seems to have a sedating effect on everyone.
After the onsen, we all changed into our yukatas for dinner, even Theo. We had requested to have dinner served in our room instead of in the dining room, because a kaiseki dinner can last a few hours and we knew Theo wouldn't have the patience to sit through it. In our room, he could run around and play while we ate.
The dinner, both that first night and the next, was exquisitely beautiful and delicious. We enjoyed it all, and especially relished the luxury of sitting in robe under a warm blanket while someone refills our sake and brings the freshest sashimi dressed with wasabi ground at the table and quickly-grilled fatty slices of Hida beef and a beautiful crock of rice that had been cooked on the fire until the bottom layer crisped and charred.
The Japanese-style breakfast the next two mornings was no different. Actually, Elie chose to have the Western-style breakfast and I had the Japanese breakfast both mornings. I really enjoyed the rice and miso soup, the beef curry with Szechuan peppercorns and the small cubes of Hida beef cooked over the fire with miso. I couldn't quite muster an appetite for sashimi first thing in the morning, but I tried it. One of my goals for the trip was to be adventurous and try new things. I did.
I highly recommend staying in a ryokan while you are in Japan. Prices vary, but you can find one in every budget range. It might be a once-in-a-lifetime experience.
A Guide to Kanazawa
When planning our trip to Japan, we knew we would see Tokyo and Kyoto, but it was hard to choose which other parts of the country to visit. We thought about Okinawa, which has a landscape similar to Hawaii and seemed like a relaxing way to end our Japan travels. Or the islands in the Seto Inland Sea, like Naoshima, the art island. But ultimately, we didn't want to drag Theo on too many trains, ferries or planes and wanted to keep travel days relatively short. We ended up choosing to end our trip in Kanazawa, which is known for the freshest fish and best sushi. We had left an option open to rent a car and drive up the Noto Peninsula and explore, but we ended up happy to explore Kanazawa, which is a lovely town and very easy to navigate on foot.
Where to Stay
In Kanazawa, we stayed in another machiya operated by Machiya Residence Inn (the same company we rented from in Kyoto) near the Higashi Chaya District, one of the geisha neighborhoods. It was a great place to base our explorations, within easy walking distance of most of the main attractions in Kanazawa. I should clarify that by saying we like to walk, and we averaged about 8 miles a day on this trip, even with Theo (before Theo, we usually averaged 15 + miles per day on vacation).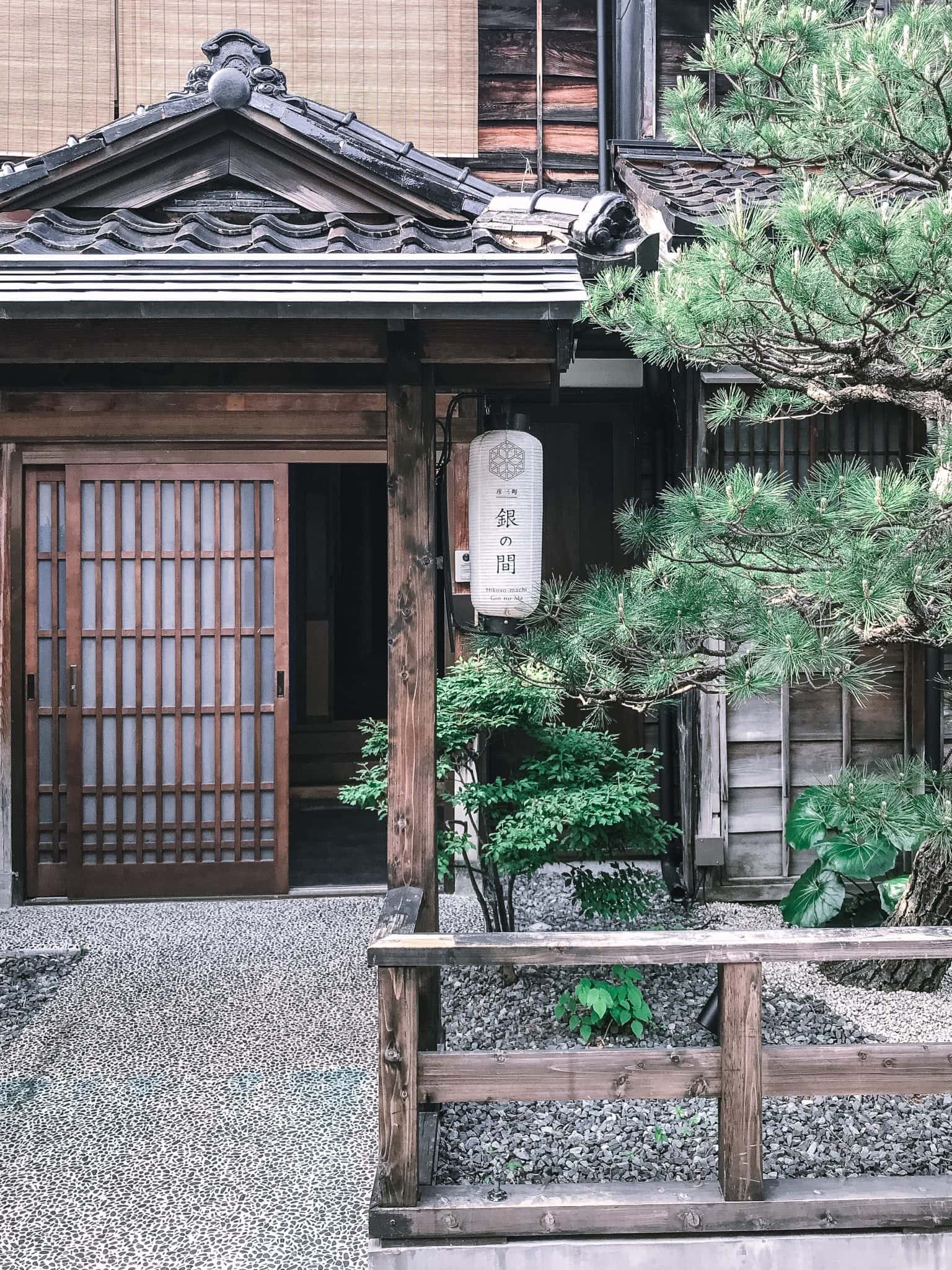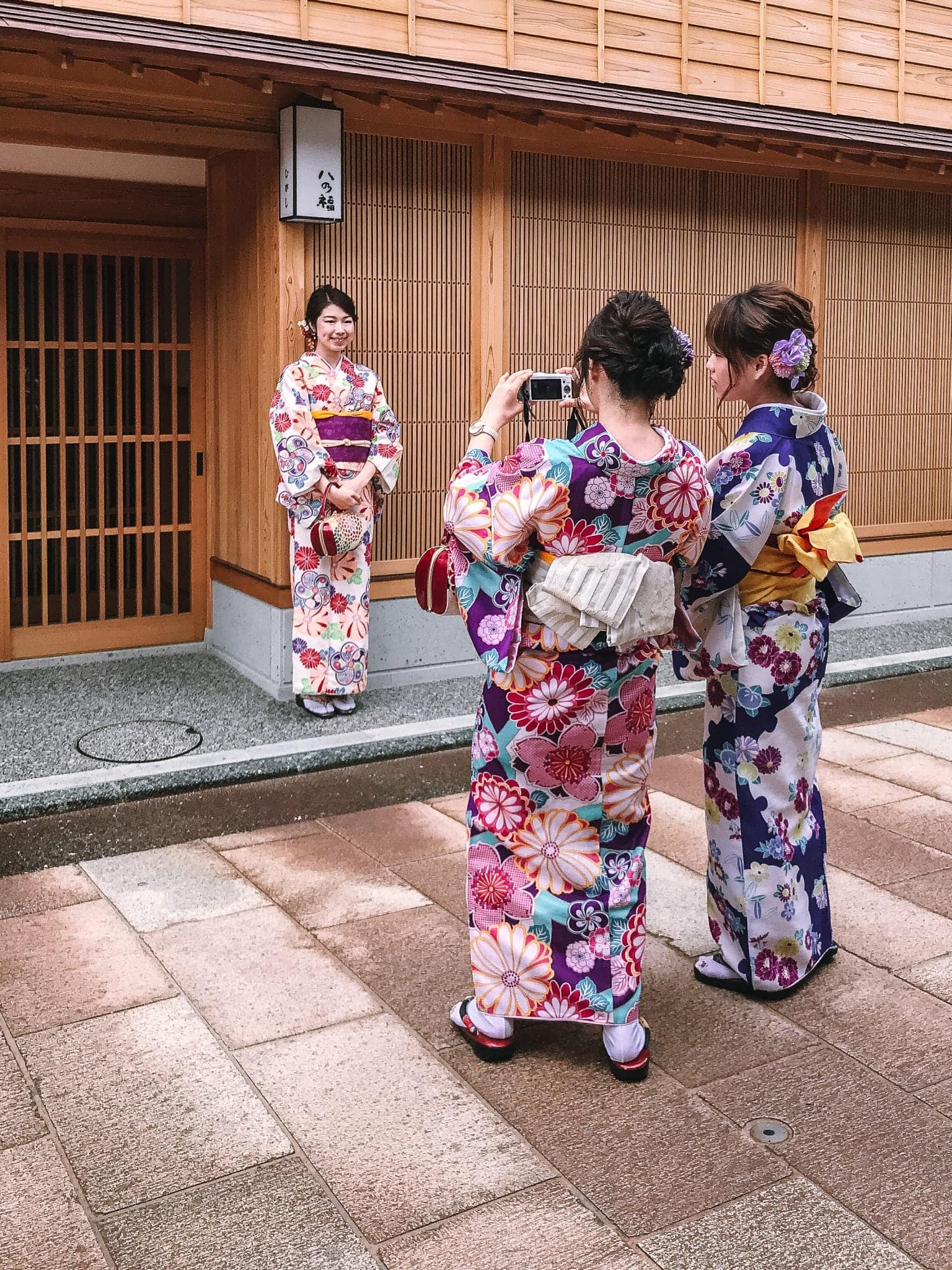 Where to Eat
By the time we got to Kanazawa, we felt comfortable exploring and eating in different types of restaurants. There's a learning curve with understanding how to be polite and observe proper dining etiquette in Japan. As I mentioned before, there is a right and wrong way to eat sushi, udon, soba and ramen, and in a country where manners matter, you'll feel more comfortable if you're following the rules.
Don't miss the French café Hiramipan, which has a beautiful selection of pastries as well as a lovely space for breakfast or lunch. Think Croque Madame and fresh salads.
If you're exploring the Omicho market at lunchtime, and you want a fun sushi experience, try Mori Mori. They have a conveyor belt of prepared sushi or sashimi (the color of the plates correspond to a price), or you can order from a display at the table, which we did. Your order will arrive via a model shinkasen bullet train. It's an amzing place to take a child for lunch. They will be entertained, and the sushi was good.
There was a soba noodle house right next to our machiya, and one night, after we had put Theo to bed, Elie and I took turns going there for dinner. Not only was the soba and tempura excellent, but the generous owner gave me a Japanese apron when I left. We also wanted to try the udon restaurant next door (which maybe has the same owners), but it was closed for several days before we left.
Also right around the corner from our machiya was a sweet café, Otaba, which doesn't seem to have much of an online presence but serves great food. The chef makes everything in his tiny kitchen and the international menu changes daily, things like roasted chicken with ratatouille or udon with prosciutto and peas and fresh salads.
Kanazawa doesn't have the coffee scene of Tokyo or Kyoto, but you can get a good latte at Curio Espresso, owned by Seattle expats.
Our friend Elizabeth of Be Here Asia recommended having lunch at Nodoguro Meshi Honten for their nodoguro (black-throated sea perch) rice bowls. We kept trying to go, but the hours they were open never worked for us. However, we did have the nodoguro at a sushi restaurant in the train station, and it was excellent. You have to love a country where you can get good food in the train station.
What to Do
Our machiya was near the Higashi Chaya District, the geisha neighborhood of Kanazawa, and we ended up spending a lot of time here, exploring and shopping. We found Kanzawa to have a great selection of artisan shops, and we bought everything from knives to pottery to confections. Enishira was one of our favorite shops in this area, and we returned several times to make purchases, including two beautiful bowls, a sake cup and a knife.
The Omicho fish market is not just a fish market, but it has restaurants (like Mori Mori) and several places to buy prepared food snacks (mostly fish) and fresh vegetables. It's a fun place to walk around.
Plan to spend a few hours or more wandering around the stunning Kenroku-en Gardens. With its gorgeous old growth trees, winding paths, water features and lakes, it's a perfect place to let the little ones run around, take a nap or have a picnic. When you finish exploring the gardens, continue to the Kanazawa Castle.
Before we visited Japan, I never knew I liked sake, because I don't think I'd ever had good sake. But during our three weeks, I definitely developed a taste for it. I did a sake tasting at the Fukumitsuya Sake Brewery in their location in the Higashi Chaya District, which was fun and educational. I will definitely be drinking more sake at home, once I find a good source for sake near Bellingham.
Even when we're not travelling with Theo, we're not ones to spend a lot of time in museums. We'd rather be outside exploring. The 21st Century Museum of Contemporary Art has an amazing outdoor space filled with interactive art installations that are entertaining for both kids and adults. The museum was closed the day we were there, but it looks like they have a great children's section inside as well.
Tatemachi Street is a shopping street lined with a variety of shops and restaurants. We ended up popping into a shop to buy an extra duffle to bring home all the treasures we collected during our travels (we also shipped a box home from Kyoto, which was really easy using the post office flat-rate service). And if you continue down Tatemachi Street off the beaten path, you'll find many small artisan shops.
I love writing these posts, because it gives me a chance to relive our trip over and over and again. And hopefully make your trip to Japan easier or better because of our experience. I haven't mentioned jet lag, which will require a whole separate post. But as I'm writing this, I'm realizing that we explored and experienced so much more in Kanazawa than we did in the beginning of our trip, which makes me think about how to structure future trips with little ones. Give yourself plenty of time at the beginning of the trip to acclimate to the culture and settle in, and then plan the most fun and or exciting parts of the trip for the end of your stay.
I feel so grateful Elie and I love to travel together, and that we have the time and means to do so. I'm also grateful that Elie is willing to take Theo on our adventures, and that Theo is a joyful companion (for the most part, because toddlers). We loved our travels in Japan, and in the end, we weren't ready to leave. We left a lot undiscovered for next time.
SaveSave
SaveSave
SaveSave
SaveSave
SaveSave
SaveSave
SaveSave
SaveSave
SaveSave
SaveSave
SaveSave
SaveSave
SaveSave
SaveSave
SaveSave
SaveSave
SaveSave
SaveSave
SaveSave
SaveSave
SaveSave